9 Reasons why Adam Peaty is so fast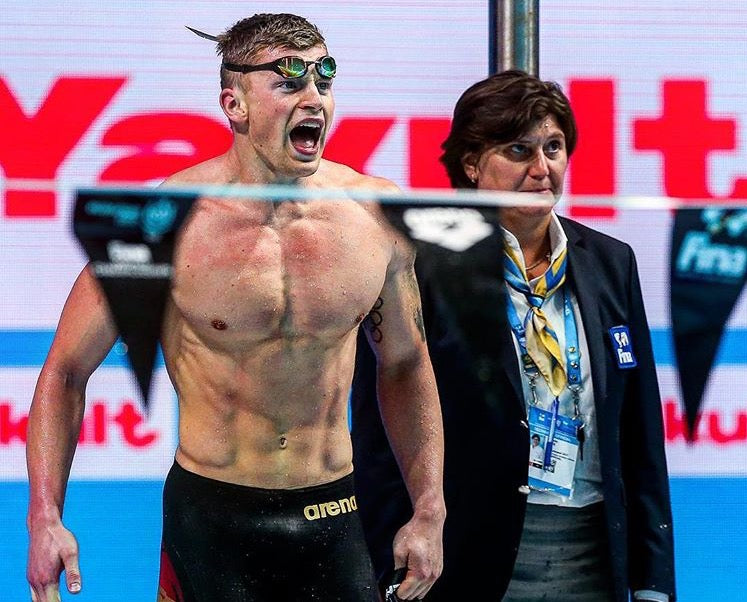 After several phenomenal swims in the World Championships, in which he destroyed the field by huge margins, it begs the question, why is he so fast? Even Phelps said his swim in the 4x100m medley at Rio was insane…
We have compiled a list of 9 potential reasons as to why he is so dominating…
Fantastic relationship with his coach
Peaty has a very good relationship with his coach Mel Marshall, who has coached him since the age of 12. Having a good relationship with your coach is vital to create a good environment in which you can both succeed. 
Supportive family 
This is the key behind any successful athlete
. His family have helped Peaty attend training and provided him with the support and means to succeed. It helps to keep your mind in a good mental place which is highly important for good performance in the pool. Mavis (His Gran) is his biggest fan.
He is freakishly big and strong
He stands at 6'3" which is well above his counterparts (Cody Miller - 5'11" and Cameron Van der Burgh - 6'0"). He also has 6% body fat, so is carrying virtually no excess baggage which all contributes to his incredible performances. His insane strength and power means he can put down more force and ultimately push more water and faster. It has been said that he can bench press a massive 130kg. If you are familiar with gym work you will realise that this is a huge figure. His athletic build and power helps to make him the machine that he is in the pool.
High stroke turnover
Also known as stroke rate, Peaty has an incredible rate that is much much higher than the rest of the field, not only that but he can also hold the rate for longer. This is also a product of his insane strength and brutal training. But not only does he have just the high turnover, he can also hold onto the water at the same time, without slipping and over revving (which is what happens to most when the rate is too high). In the olympic final he took 21 strokes going out and 25 coming back on the 100m, Van der Burgh took 18 going out and 23 coming back, that's a huge difference in breaststroke swimming!
Narrow kick
Have you ever seen a video of him under the water? His kick is more like a squat, this means it is narrower and therefore causes less resistance. It also allows him to complete the kick more quickly to aid an increase in stroke rate.
Timing of the stroke
Even though he has a very narrow kick, the timing of his stroke is impeccable. His legs have fully completed the kick before the next arm pull starts. Because his timing is so perfect he has no real deceleration ('dead spots') in his stroke, allowing him to keep powering through the water at a high speed.
Doesn't over think the swim
As Peaty himself has said in numerous interviews it is very easy to get over excited and rush things through and on breaststroke it is even more important to keep your composure and not over rush/over think things. His thought being, if you have done the work in training then the race should be automatic and natural.
He is an effective self motivator
As he said on the approach to his latest world championships swim he 'Attacks, not defends' his swims. Seeing the word 'defending' as passive and much prefers to say he is attacking each swim he does. He is a very good self motivator, this shows through his interviews and what he says to his teammates after races. This is important as it allows him to keep pushing through every session. When his body is in a hole and is screaming to stop, he doesn't.
Hard work
Nothing is a substitute for hard work, Peaty truly is a lion when it comes to training. His strength and conditioning coach says he was the best athlete who he has ever worked with, and from his performance in the pool it is clear that this hard work pays dividends. At the end of a race he pulls away from his competitors, much like Bolt does in his races. In a sprint swim the fastest swimmer is the one who slows the least from the start, as the start is the fastest point in the swim. Peaty has put in the work to make this look easy and the rest of the world amateurs! It has been hinted that he has to consume a monstrous 8000 calories a day to help his body recover from one brutal session to another. This may seem easy when you look at the calorie content of a McDonalds, but to do this eating clean really is difficult and would nearly require constant eating throughout the day.
It is not any one of these individual points above which defines him as an athlete but it is all of them working seamlessly together in something Peaty likes to call 'Equilibrium'. It is this equilibrium which allows him to perform like he does. Whilst he is re-defining the stroke of breaststroke can anyone catch him and mimic what he does? He likes to think not, suggesting that a copy is not better than the original and that more is to come… Can he be the next Phelps and help to push the sport further into the light…? 
Best times:
50m Breast - 25.95 - 2017 Budapest World Championships

100m Breast - 57.13 - 2016 Olympic Games 
200m Breast - 2:08.34 - 2015 British National Championships
As always we love to hear your comments and answer any questions you may have. Comment below, DM or email us at info@tiide.com. Check out what Tiide is about here.
Share this